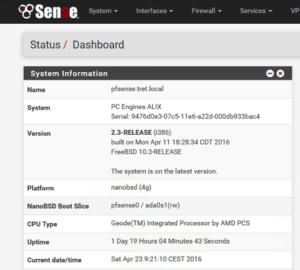 Some days ago I've upgraded my pfSense installed in the office to new release 2.3. This device is running is a mother board PC Engines ALIX-based with compact flash: for this reason pfSense is based on NanoBSD image.
Usually this process is flawless, but now I've noticed after the upgrade lot of slowness: some page take long time to respond or do not load at all.
After some search I've found the solution in page "Upgrade Guide-pfSense": pls see linkografia.
1) Configuring the system to keep the compact flash card in Read/Write on a permanent basis.
Diagnostics > NanoBSD -> Flag on "Permanent Read/Write"
2) When using Compact Flash is "good habit" decrease disk and RAM activity. It is possible remove not necessary log from Status -> System Log -> Settings.
3) In rel 2.3 some packages are obsolete or changed: pls check System -> package, and remove unnecessary and obsolete package.
Linkografia
Upgrade Guide-pfSense